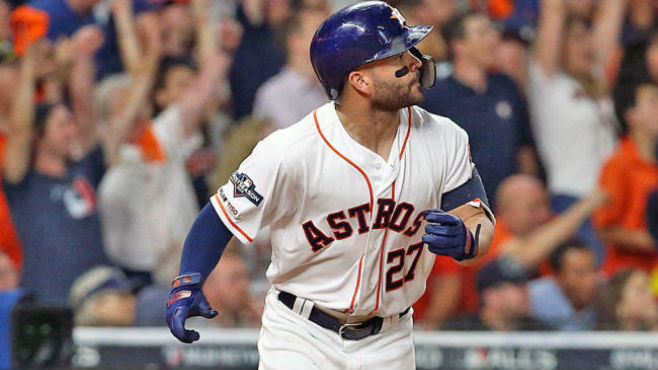 The Houston Astros are headed to their second World Series in three years thanks to a walk-off two-run home run from Jose Altuve in the bottom of the ninth.
How It Happened:
After Brad Peacock sat the Yankees down in order, Jose Altuve gets in scoring position with a stand-up double to center field. After Alex Bregman was walked, Yuli Gurriel cranked out to the Crawford Boxes to give the Astros a 3-0 lead. Gary Sanchez had a rebuttal though in the top of the second with a two-out RBI single to center field to get Didi Gregorious across home plate.
Gio Urshela then made it a one-run ballgame in the top of the fourth with an absolute bomb to the Astros bullpen. Houston responded in the sixth when Altuve scored off of a groundout by Alex Bregman.
It looked like the Yankees were going to rally in the seventh, but a phenomenal diving catch by Michael Brantley followed up by a dart to first base to turn the double play. It was more of the same in the top of the eighth when Gary Sanchez grounded into a standard double play to end another potential threat.
However, DJ LeMahieu turned things around in the top of the ninth with a two-run blast that just missed the glove of George Springer to tie things up. Jose Altuve ended the ALCS with a two-run shot towards center field to seal the deal for Houston
Big Number: 8
The New York Yankees led the game in terms of hits, but they couldn't cash in on their opportunities, stranding eight batters. 
Player of the Game: Jose Altuve
You hit the game-winner, you deserve the player of the game honor. It's only fair.
Next Up: World Series vs Washington Nationals; Game One Tuesday