Sat | 2p-6p
My name is Tanya Ardoin and I am the host on Saturdays 2-6P on Mustang 107.1. I love working with the people of Acadiana and being a voice for the public.
Whenever I have free time, the first thing I try to do is go running. I absolutely love to exercise or be active in some way. I recently bought a kayak but haven't been able to use it.
Most of my days off, are usually spent doing things for my son and daughter. Usually, this involves, driving them around, buying them food or getting up from the sofa to get them a glass of water. I feel as though, I am basically on standby to do stuff for them until they reach adulthood.
I also enjoy painting pictures, taking road trips and drinking lots of coffee. I have a Siberian Husky named Marion.
I was born in Japan. Both of my parents were in the Army and met while stationed at Camp Zama in Japan. My dad is from Evangeline Parish. He grew up on a farm outside of Mamou. His first language was French. My mom is from Pine Ridge Reservation in South Dakota. I am what most call, "a military brat." I spent my childhood moving to a new city every few years. We lived in Panama, Virginia, Hawaii and South Dakota. My dad eventually retired from the Army and we moved to Louisiana, where I attended Vidrine High School. Eventually, I grew up, went to college and got a degree in Broadcasting. And now, here I am, doing a morning show on Mustang 107.1
Listen to Tanya Ardoin Saturdays 2-6P on Mustang 107.1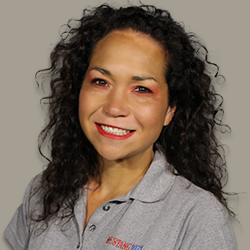 Studio 337-706-0115
---