Some reports suggest Black Friday crowds will be smaller and less frantic because of online sales and some of the big deals offered from the big retailers just aren't so special as in the past.
Retailers received a black eye for advertising big savings on items in such high demand only to discover the location only had one or two of the items on sale. It was a kind of bait and switch. You showed up at the store and waited in line in the elements maybe even going as far as campinge working hard bring back big deals at the local level to get the Black Friday shopper off the couch from shopping online from their phone or laptop. out to score that big screen TV. Only to discover the big TV is sold out, yet the big box store already has you in the store so they try to sell you the next big item but not at big savings. It was this type of shenanigans that went on for years and many consumer felt as though they were being taken advantage of. Things have changed and big box stores and retailers are working hard to get customers back in the stores.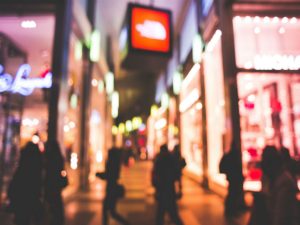 It's really their own fault for dishonest bait and switch practices. Now the big retailers are trying to make Black Friday deals really big deals. They now know you have the option of sitting at home, in the comfort of the heat and saving time, energy and money by shopping online. Now the retailers are pulling out all of the stops to try to pull you out of the house and back in the stores  to shop on Black Friday.
Will it work? Do you plan to shop locally on Black Friday?
Here are some of the early deals a few of the merchants are leaking out according to C/Net.
If a big TV is on your list go to WalMart for The M-7 Series Quantum 50 inch TV  for $487. Dad or the kids want a real stand up arcade machine? Again Walmart is pulling the stops with a real Arcade 1-Up arcade machine at a price ranging from $170-180, the regular price is $300.
Not to be outdone, Best Buy is rocking some Black Friday deals also including the Apple Home Pod which is getting stiff competition from Alexa but keep in mind, if you live in the world of Apple, who cares about Alexa. The Apple Home Pod delivers a quality of sound that is actually second to none and the price will even make Santa smile.  These normally sell for $350 but Best Buy will have them at $200. Then you have the Chromebook features 4GB of RAM, 32GB of expandable storage, this would seem like one of those deals you line up for and spend the night to make sure you nab on of these. Black Friday price is $179 for this Lenovo tablet with a 4.7 customer rating.
You'll find more early Back Friday deals at other local retailers and it is good for all when you and I spend our money locally. It helps the economy and keeps your hard earned money local. Plus it helps  keeping local people employed.
Don't forget about Small Business Saturday is November 30th. Acadiana has many neat one of a kind specialty shops featuring everything from Cajun gifts and food baskets to local retail shops. SBS is one of the best promotions helping keep your shopping dollars local helping to preserve the locally owned businesses in Acadiana.
Before you go online for gift shopping, spend time locally helping the local economy.