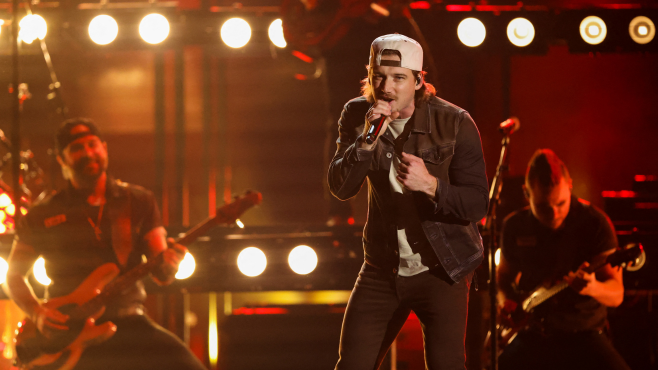 The first-ever People's Choice Country Awards show will take place in September at the Grand Ole Opry House in Nashville, streaming on NBC and Peacock. Country group Little Big Town will host the event with several performances to be announced later.
Morgan Wallen brought in the most nominations of any artist with 11, while Louisiana's own Lainey Wilson was nominated for seven different awards, the most for a female country star.
The interesting caveat with this awards show is it's completely voted on by the fans at home. Nominations come in and then fans will vote beginning now through August 25 at votepcca.com.
There are 12 different categories, including:
People's Artist
Male Artist
Female Artist
Group/Duo
New Artist
Social Country Star
Song
Collaboration Song
Crossover Song
Album
Music Video
Concert Tour
The awards show will also have several honorary awards, including country music legend Toby Keith receiving the Country Music Icon Award, which will be presented to him by Blake Shelton.
People's Artist
Blake Shelton
Kane Brown
Kelsea Ballerini
Lainey Wilson
Luke Combs
Morgan Wallen
Old Dominion
Zach Bryan
Male Artist
Bailey Zimmerman
Blake Shelton
HARDY
Jelly Roll
Kane Brown
Luke Combs
Morgan Wallen
Zach Bryan
Female Artist
Ashley McBryde
Carly Pearce
Carrie Underwood
Elle King
Kelsea Ballerini
Lainey Wilson
Megan Moroney
Miranda Lambert
Group/Duo
Brothers Osborne
Dan + Shay
Lady A
Little Big Town
Maddie & Tae
Old Dominion
Parmalee
The War and Treaty
The New Artist of 2023
Bailey Zimmerman
Corey Kent
ERNEST
Ingrid Andress
Jelly Roll
Megan Moroney
Priscilla Block
Zach Bryan
Album
Bell Bottom Country – Lainey Wilson
Different Man – Kane Brown
Gettin' Old – Luke Combs
One Thing at a Time – Morgan Wallen
Religiously. The Album. – Bailey Zimmerman
Rolling Up the Welcome Mat – Kelsea Ballerini
the mockingbird & THE CROW – HARDY
Whitsitt Chapel – Jelly Roll
Song
"Fast Car" – Luke Combs; Songwriter: Tracy Chapman
"Last Night" – Morgan Wallen; Songwriters: Ashley Gorley, Jacob Kasher Hindlin, John Byron, Ryan Vojtesak
"Love You Anyway" – Luke Combs; Songwriters: Dan Isbell, Luke Combs, Ray Fulcher
"Need a Favor" – Jelly Roll; Songwriters: Austin Nivarel, Jason DeFord/Jelly Roll, Joe Ragosta, Rob Ragosta
"Tennessee Orange" – Megan Moroney; Songwriters: Ben Williams, David Fanning, Megan Moroney, Paul Jenkins
"Thank God" – Kane Brown, Katelyn Brown; Songwriters: Christian Stalnecker, Jared Mullins, Jaxson Free, Josh Hoge, Kyle Fishman
"Thinkin' Bout Me" – Morgan Wallen; Songwriters: Ashley Gorley, John Byron, Ryan Vojtesak, Taylor Phillips
"wait in the truck" – HARDY feat. Lainey Wilson; Songwriters: Hunter Phelps, Jordan Schmidt, Michael Hardy, Renee Blair
Collaboration Song
"Beer With My Friends" – Kenny Chesney & Old Dominion; Songwriters: Bryan Simpson, David Lee Murphy, Shy Carter
"Cowgirls" – Morgan Wallen feat. ERNEST; Songwriters: Ashley Gorley, Ernest Keith Smith, James Maddocks, Milan Modi, Rocky Block, Ryan Vojtesak
"red" – HARDY feat. Morgan Wallen; Songwriters: Michael Hardy, Rhett Akins, Ben Hayslip, Jacob Rice
"Save Me" – Jelly Roll with Lainey Wilson; Songwriters: David Ray, Jason DeFord/Jelly Roll
"Thank God" – Kane Brown, Katelyn Brown; Songwriters: Christian Stalnecker, Jared Mullins, Jaxson Free, Josh Hoge, Kyle Fishman
"wait in the truck" – HARDY feat. Lainey Wilson; Songwriters: Hunter Phelps, Jordan Schmidt, Michael Hardy, Renee Blair
"We Don't Fight Anymore" – Carly Pearce, Chris Stapleton; Songwriters: Shane McAnally, Carly Pearce, Pete Good
"You, Me, and Whiskey" – Justin Moore, Priscilla Block; Songwriters: Brock Berryhill, Jessi Alexander, Cole Taylor
Crossover Song
"Dawns" – Zach Bryan feat. Maggie Rogers; Songwriters: Maggie Rogers, Zachary Lane Bryan
"Just Say I'm Sorry" – P!nk, Chris Stapleton; Songwriters: Alecia Moore, Chris Stapleton
"Life Goes On" – Ed Sheeran feat. Luke Combs; Songwriter: Ed Sheeran
"Seasons" – Bebe Rexha, Dolly Parton; Songwriters: Bebe Rexha, Ido Zmishlany, Sarah Solovay
"Texas" – Jessie Murph feat. Maren Morris; Songwriters: Alex Niceforo, Amy Allen, Jessie Murph, Warren "Oak" Felder
"That's Not How This Works" – Charlie Puth feat. Dan + Shay; Songwriters: Jordan Reynolds, Charlie Puth, Dan Smyers
"UNHEALTHY" – Anne-Marie feat. Shania Twain; Songwriters: Anne-Marie Nicholson, CASTLE, Connor McDonough, Riley McDonough
"Wasted" – Diplo feat. Kodak Black & Koe Wetzel; Songwriters: Bill K. Kapri, Richard Cook Mears IV, Ropyr Wetzel, Thomas Wesley Pentz
Music Video
"In Your Love" – Tyler Childers
"Need a Favor" – Jelly Roll
"Tennessee Orange" – Megan Moroney
"Thank God" – Kane Brown, Katelyn Brown
"Thought You Should Know" – Morgan Wallen
"wait in the truck" – HARDY feat. Lainey Wilson
"Where We Started" – Thomas Rhett, Katy Perry
"You Proof" – Morgan Wallen
Concert Tour
Blake Shelton: Back to the Honky Tonk Tour
Carrie Underwood: Denim & Rhinestones Tour
Chris Stapleton's All-American Road Show Tour
Kenny Chesney: I Go Back 2023 Tour
Luke Combs World Tour
Morgan Wallen: One Night at a Time World Tour
Shania Twain: Queen of Me Tour
Zach Bryan: The Burn, Burn, Burn Tour
Social Country Star
Bailey Zimmerman
Blake Shelton
Carrie Underwood
Dolly Parton
Kelsea Ballerini
Luke Combs
Morgan Wallen
Shania Twain