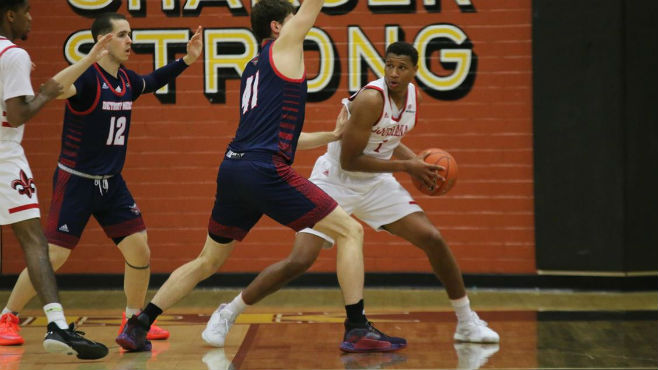 After a very uncharacteristic start against Detroit Mercy, the Louisiana Ragin Cajuns started off their stay in Las Vegas on Monday afternoon with an 81-62 victory over the Trojans thanks in large part to a really big run in the first half.
How It Happened
The Ragin Cajuns started off the ballgame cold from the field, going 0-for-5, giving the Trojans a chance to get out in front early. However, Dou Gueye helped really jumpstart the offense for the Cajuns, going on a 14-1 run to force Detroit Mercy to take a timeout with 13:20 left in the first half. After the Antoine Davis tied the game at 18-18 with a pair of free throws with 7:32 remaining in the first half, Louisiana went on a 16-4 run to build a double-digit lead.
Davis struck again late in the first half, cutting the deficit to 31-22 with a jumper, but a free throw from Kristian Lafayette and a dunk by Smith made it a 34-24 lead at the break.
After a pair of threes from Davis and Willy Isiani, the Cajuns started to pull away thanks to a pair of big second-half performances from Jalen Johnson and Cedric Russell who put up a combined 23 points. The final nail in the Trojans coffin was put in when Trajan Wesley hit a layup with 14 seconds left in regulation to secure a 19-point victory.
Big Number: 27
The Ragin Cajuns bench looked great on Monday and a lot of that has to do with more depth now than in recent weeks with PJ Hardy back on the roster after being suspended for the start of 2019-20 season. Mylik Wilson and Tirus Smith both combined for 21 of the bench's 27 points. It was crucial to see the bench perform at the level they did and will be huge once the program turns the page over to conference play.
Player of the Game: Antoine Davis
The Trojans may have lost by double digits, but you have to give credit to Antoine Davis who accounted for almost have of the offense on Monday afternoon. The sophomore guard racked up 30 points, three boards, and four assists. Outside of that, Detroit Mercy underwhelmed offensively with no other player approaching double digits.
Next Up: Tuesday vs UC Irvine; Tipoff at 3 pm