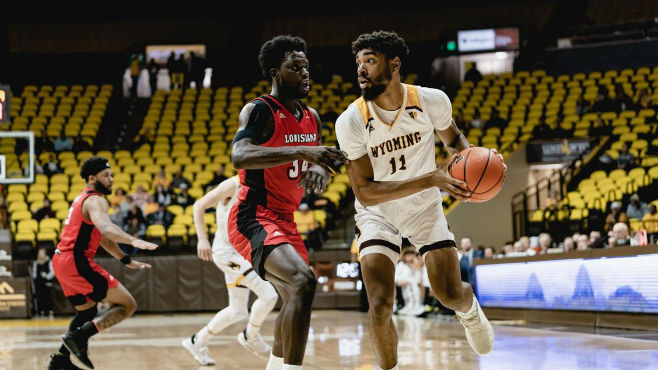 The start of the Louisiana Ragin' Cajuns road trip on Thursday night wasn't the best in a 69-61 overtime loss to the Wyoming Cowboys despite a big night from Kobe Julien.
How It Happened:
Wyoming got out in front with a 5-0 run early on, but the Cajuns responded with a run of their own that was highlighted by a four-point play by Dou Gueye to take back control of the matchup before the first media timeout. A combination of Cedric Russell and Kobe Julien was enough to hold off the Cowboys for much of the first half, but Hunter Thompson wasn't going to be denied with 14 of his 22 points coming in the first half and that was enough to give them a 31-24 lead with 4:23 left. However, a late free throw from Tirus Smith tied things up at 33 as both teams headed to the locker room.
The second half had a lot of back-and-forth between the Cajuns and the Cowboys with neither really pulling away for much of it. Wyoming went up by as much as seven points with eight minutes left in regulation, but it didn't last long as the Cajuns fought back in the final moments with Cedric Russell forcing overtime off of a jumper.
Once the overtime period began, the Cajuns went cold from the field, going 2-for-8 and that was what cost them the ballgame along with Wyoming going perfect from the field and 8-of-10 from the free-throw line.
Big Number: 33
The Cajuns field goal percentage on Thursday night left a lot to be desired, especially in the second half where they went 8-of-24. Despite a hot finish to regulation, they just couldn't close the deal.
Player of the Game: Hunter Thompson
Thompson's performance was outstanding and a big key for the Cowboys victory against Louisiana with 22 points, seven boards, a block, and a steal.
Next Up: November 25th vs Detroit Mercy