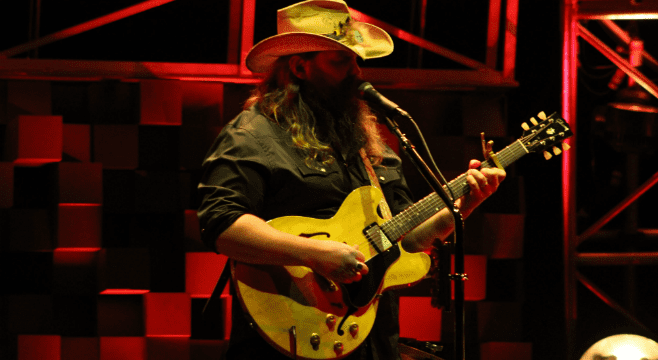 Chris Stapleton doesn't fit into conventional country music terms.
Stapleton made a name for himself in Nashville by penning hit songs for everyone from the likes of George Strait, Blake Shelton to Luke Bryan but also for non-country acts such as Joss Stone and Adele has even covered his work.
That diversity has also applied to his solo career.
Stapleton's salt-of-the-earth lyrical prose, along with his distinct appearance (long hair, scraggly beard, weathered western hat), places him easily into the 1970's outlaw country genre or at bare minimum the most trust roadie for "The Highway Men."
Stapleton though has a simple but yet emotional vocal style that is more reminiscent of old Memphis R&B and soul than country. Not to mention that his underrated guitar skills are infused with delta blues.
As I said, Stapleton is hard to put a label on which explains why fans of classic country, rhythm and blues, alternative country and southern rock all have helped Stapleton become a music superstar.
That diverse musical prowess was on full display Friday night as Stapleton brought his "All-American Road Show" tour to the Cajundome.
Stapleton set the tone by opening up the night with the guitar-heavy "Second One to Know" and then followed by "Without Your Love" — both from "From A Room: Volume 1." 
Stapleton then broke out two of his hits from "Traveller" with crowd-pleasers "Nobody to Blame" and "Might as Well Get Stoned." After playing "Minimum Wage," the loudest response early on from the sell-out crowd came when Stapleton tore into hit "Parachute" from "Traveller."
That harmony between Stapleton and the crowd though would be surpassed a few songs later when the Kentucky native began strumming the chords to his breakout smash "Fire Away."
The response from the crowd was so overwhelmingly tremendous that Stapleton commented right afterward "we got a bunch of singers out here tonight." 
Stapleton then asked the crowd to light it up with cell phone flashlights and then sing the chorus again. Stapleton was grateful for the enthusiastic singing stating "you sound so lovely thanks for doing that."
Stapleton kept rolling through his 19-song set with highlights being his acoustic version of his cover of "Whiskey and You," then having Marcus King and Brent Cobb join him on stage for a raucous new song "Get Down to Arkansas" which Stapleton told the audience was inspired by a fast car he bought in Oklahoma this year.
Stapleton then closed out the show with a stellar rendition of "Outlaw State of Mind" which led right into "Death Row." Then came a stripped-down intro to Lynyrd Skynyrd's iconic "Free Bird" which seemingly bled into "The Devil Named Music," followed by "Broken Halos."
Stapleton closed things out with of playing an extended version of the first few chords of his signature song "Tennessee Whiskey" while he introduced his band (bass player J.T. Cure, drummer Derek Mixon," steel guitar player Robby Turner, harmonica player Mickey Raphael ) before tearing into the song.
After a few minutes of applause, Stapleton and his band came back on stage and closed out the show with "Midnight Train to Memphis" off of "From A Room: Volume 2."
Whether or not Stapleton returns to the Cajundome anytime soon remains to be seen, but when he does the country superstar will have an extremely high bar to reach when it comes to putting on a tremendous concert experience — a bar he set magnificently on Friday night.
Chris Stapleton Setlist
"Second One to Know"
"Without Your Love"
"Nobody to Blame"
"Might as Well Get Stoned"
"Minimum Wage"
"Parachute"
"Hard Livin'"
"Millionaire"
"Fire Away"
"I Was Wrong"
"Whiskey and You"
"When the Stars Come Out"
"Traveller"
"Get Down to Arkansas"
"Outlaw State Of Mind"
"Death Row"
"The Devil Named Music"
"Broken Halos"
"Tennessee Whiskey"
Encore
"Midnight Train to Memphis"