An Evening With Lee Roy Parnell
Full disclosure: I am a fan of Lee Roy Parnell. So as far as me being unbiased in this review, well, that's not going to happen. But if by some chance someone at Friday night's show at Vermilionville wasn't a fan before, I cannot imagine how they could not have been fully converted by the end of that absolutely amazing performance. I have had the good fortune of meeting Lee Roy on three occasions previously. He was always kind, funny and truly appreciative of the people who appreciate his music. It's been 21 years since our last encounter and yet the years have only deepened those aspects of him. So, with all of that in mind, let's (as Lee Roy said last night) get this show "On the Road."
"I hope you guys didn't put a roast on. Cause we're going to be here a while."
And with those words, one of the greatest guitar players, not just of Country music but of any genre, took the stage at Vermilionville. Before a packed house, Parnell and his band belted hits out old and new for two straight hours before being brought back for two encores. And in between songs, the warmth of Parnell's personality and the chemistry he has with this band made the crowd feel like they weren't merely an audience but old friends hanging out listening to a jam session.
Old school hits? He played them. Starting with "On the Road" the night was filled with familiar and loved tunes such as "Tender Moment," "I'm Holdin' my Own," "Heart's Desire," "What Kind of Fool Do You Think I Am?" "When a Woman Loves a Man," "Love Without Mercy," "The Rock," and "Saved by the Grace of Your Love." Sometimes, the audience was so enthralled they took over the singing much to Parnell's delight.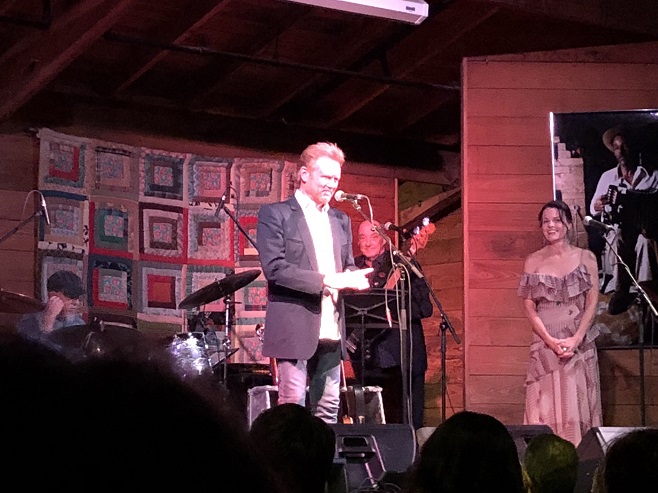 In between, Parnell included hits from his latest album "Midnight Believer." On several occasions, Lee Roy mentioned his love of Louisiana in general and Lafayette specifically and that love can be heard on "Pontchartrain" as well as the transformative love of his eight-year-old son on "Sunny Days." Throw in some Bob Wills, Guy Clark and back up singer Lisa Stewarts' smashing rendition of "Son of a Preacher Man" and two hours seemed like it wasn't enough.
The night began with opening acts Roddie Romero and Michael Juan Nunez taking the stage with guitars in hand and laying down some blues. Or as Roddie said, "Some low down blues." Both of these gentlemen are truly gifted guitar players in their own right with voices that nail the emotion of their music. Their performance was the perfect introduction to what was to come.
As was the case the last time I saw Parnell, I left the concert ready to re-listen to every album he's released. It was like visiting friends that you haven't seen in ages. The passion for the music is still as strong as it ever was, even if the high notes are a little harder to hit. But you simply cannot attend a Lee Roy Parnell concert and not leave a fan. I know, I've been one for over 25 years.
One final note, Vermilionville itself. The facility is gorgeous and the intimate nature of the venue cannot be beaten. More productions are on the way so if you haven't seen for yourself yet, do so at your next opportunity.