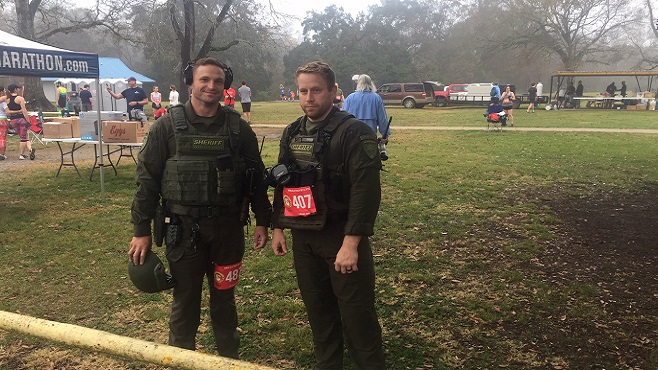 The Cajun Country Run organized by nonprofit group TRAIL took place at Acadiana Park this past Saturday. At first, the forecast called for rain, but luckily, not a single drop of rain fell from the cloudy sky. Runners had the option of competing in the Half Marathon, 10k, 5k, trail, or road options. The top finishers were awarded fancy alligator head trophies. Prizes were also given out to the fastest and best dressed Santa.
I signed up for the 10k Road run.
Runners of all shapes and sizes showed up for the race. I think I saw the real Kris Kringle aka Santa Claus. It had to be him. Except instead of shiny black boots, he was wearing running shoes. I bet this is how he prepares for the big night of delivering presents and devouring cookies.
At the starting line, right next to me, was a tiny little boy who had to be 8 years old. His parents cheered him on from the edge of the road. His "on your marks" stance showed his determination to knock out 6 miles. Suddenly, the butterflies in my stomach disappear. If he's ready to run and give it all, so am I!
While I was preparing myself to slay 6 miles as fast as possible, I look over and see a few members of the Swat Team from the Lafayette Sherriff Office. These guys were loaded down with gear, heavy backpacks, belts, boots, and each had a racing bib.
So, of course, I had to ask, "Are you guys racing too?" With all your gear?"
They smiled, 'Yep."
Another runner chimed in, "How much does it all weigh?"
One of the Swat team members responded, "Ohhhhh, about 40lbs."
The race started at 8:00 am on the dot. Hundreds of runners powered through the course. Before I knew it, the finish line was in sight. Organizers served the participants a big ole bowl of Gumbo-laya. (This is gumbo with a scoop of meaty jambalaya, – quite filling.)
I really enjoyed this event. The whole thing. From each runner cheering each on during the race and after, to the Swat team members trudging along in their gear. It's great. OH, and the trees! It's fun hanging out at Acadiana Park and running along the bayou. This is a little forest in the city limits of Lafayette. The runners who opted for the TRAIL race had a little bit of mud on their legs and shoes. They appeared to enjoy sloshing through the mud to get to the finish line. I look forward to next year and hopefully, I will be able to beat my own time.
Registration is currently open for next year. Visit CajunCountry.run or LATRAIL.org.
See more photos: The Cajun Country Run – The Daily Advertiser