Over the weekend I was out and about and I saw a couple of Christmas Tree lots popping up and I have not even considered a real tree in many years. After all, I have two large dogs and I already had a few bad experiences with live dogs and live trees so I go artificial all the way. Nevertheless, this was Thanksgiving weekend and I was in the Christmas spirit so I decided to look at the fresh new trees and take in the fresh tree smell.
If a fresh new and live Christmas tree is on your list this year you will be dishing out more greenage for that live green tree. I was shocked when I noticed the prices for these trees. I could not find a tree for under $60. And it then became a game with me. I was determined to find a tree or a twig for under $60. There was not a single tree for less than $60 and the price went all the way to over $100. I asked the attendant on duty about the prices even going as far as telling him thought the prices were a bit steep. He informed me of the Christmas tree shortage this year and he may not get another shipment of live trees. This could be the only trees he received and he also reminded me of his overhead which included paying for part-time help, renting the lot and electricity.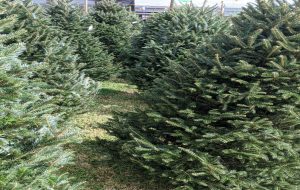 If you're thinking the price of real trees has gone up every year, you would be correct. According to Fortune, the live trees rose 5% in price last year which equal about $3 per tree and the year before that, the increase was moderate. This year you will see another 5% increase in prices and I am not a brilliant person, if my math is correct, this would be a 10% increase in prices over the last two years.
And it is not as though we can manufacture new live trees. The trees you see and buy this year are at least 8+ years old with the average age of a Christmas tree is 10-12 years old. Trees planted today will not be ready until Christmas 2028 at the earliest. Tree farmers spend countless hours in the tree farms caring for trees and any farmer would tend to their crop or herd.
This holiday season you can expect to pay close to $12 more this year over last year's tree price. The tree which was small enough for your small office last year which costs you $35, expect to pay close to $50 this year.
It's fun to see families walking the lot and picking the best tree. For many families, the cost of the tree is well worth the price for the memories made with family and friends.