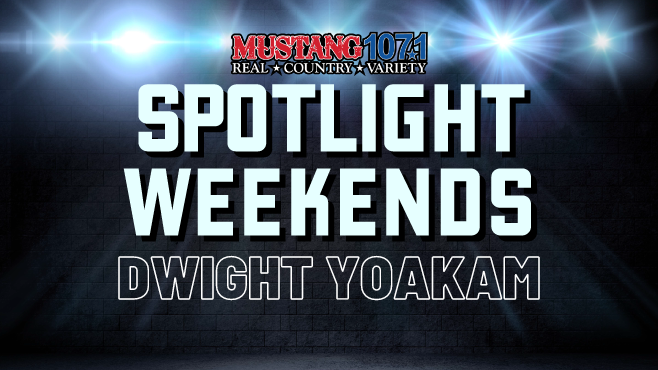 This weekend, Mustang 1071 is shining the spotlight on Dwight Yoakam! It's a Honky-Tonk Man Weekend. We are going to play a double shot of his music every hour. It starts this Friday evening at 5. Download the free Mustang app to listen to Mustang live and make instant requests.
Dwight Yoakam was born in Kentucky in 1956. He spent most of his childhood in Ohio. In high school, he was involved in music and drama. He acted in school plays and performed with a garage band on weekends. He went to college for a little while but quit so he could move to California. He tried out the Nashville music scene but his style of music did not fit. At the time, Nashville was going through an "urban cowboy" phase which was more of a pop-sounding style of country music. Dwight Yoakam's music had more of a Honky-Tonk Hillbilly sound. In Los Angeles, Dwight Yoakam took the stage at any venue that would let him sing. He even performed at punk rock clubs. He wrote all of his own songs. Dwight Yoakam finally produced the Guitars, Cadillacs Ep which was self-financed. The record was a hit.
Dwight Yoakam has starred in lots of movies. Some of his films include Sling Blade, Panic Room, and The Minus Man. He has also been a guest on the Tonight Show more times than any other musical guest.