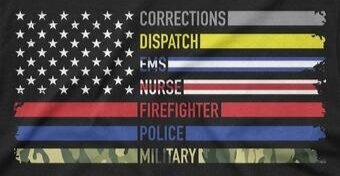 TRAIL presents the Responders' Race set for Saturday, September 11, 2021. Compete in the 10k, 5k, or Fun Run.
This event is dedicated to the First Responders who provide assistance and protection in our time of need. This will be a day of appreciation for the military, law enforcement, medics, nurses, firefighters and all First Responders. There will be live music provided by Jamie Bergeron and the Kickin Cajuns, food, drinks, fun jump and prizes.
Bonus divisions: Full Battle Rattle, & award for Biggest Team (Most personnel and family from one department)
Prizes from 5.11 Tactical, Safariland, TRU-SPEC, and more.
Early registration is happening now! Sign up for the RESPONDERS' RACE 9-11 at latrail.org. First Responders participate for FREE!
TRAIL is a nonprofit organization in Lafayette that is dedicated in creating and maintaining outdoor recreation.
TRAIL is need of volunteers. If you are interested in lending a helping hand, sign up here. Volunteers have fun and get free drinks, food, and shirt.

Source: TRAIL