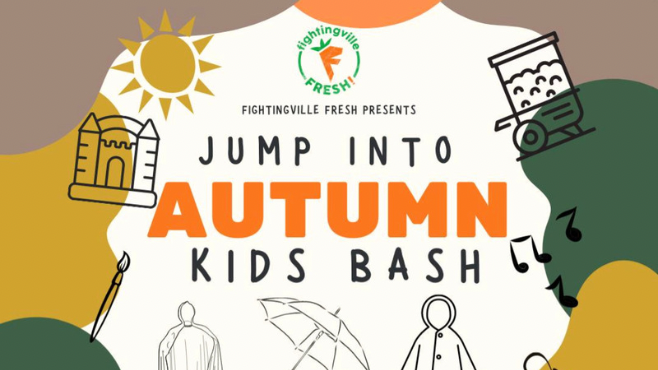 The Fightingville Fresh Market is hosting its first-ever Jump Into Autumn Kid's Bash this Saturday, September 16th.
Following their traditional market from 1-4 p.m., food and treats will be available from 4-6 p.m., including hot dogs, cotton candy, and popcorn. There will also be activities and games for kids. While the bash takes place, there will be a rain jacket, poncho, and umbrella giveaway for all school-aged children who attend. The event is free and no prior registration is needed.
Fightingville Fresh Market is currently accepting donations of new and gently used rain gear as well as monetary donations leading up to the event during their market time on Tuesdays from 3-5 p.m. and Saturdays from 1-4 p.m.
The market is located at 315 W Simcoe St. in Lafayette and for more information, you can DM @fightingvillefresh on Facebook and Instagram or email [email protected].