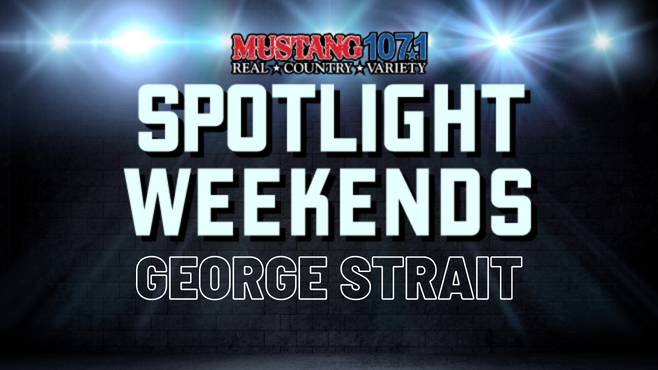 This weekend is dedicated to the KING of Country music! Mustang is will play a double shot of George Strait every hour.
George Strait's career has been going strong for the last thirty years. He has 60 number one songs on the country charts. George Strait has sold 100 million records. He was named the Artist of the Decade in the 2000s and then was elected into the Country Music Hall of Fame and finally won his first Grammy for the album Troubadour. He has been named both CMA Entertainer of the Year and ACM Entertainer of the year several times.
George Strait was first interested in becoming a musician in high school. His favorite band at the time was the Beatles so he joined a rock and roll band. It was not long before he started listening to country music. He enjoyed listening to George Jones, Hank Thompson, Lefty Frizzell, and Merle Haggard. George Strait married his high school sweetheart and joined the Army. He was stationed in Hawaii and joined a country music band. He only got to sing one gig with this band. The band fired him for not sounding country enough.
George Strait eventually was discharged from the service and then returned to Texas. He went to college and got a degree in Agriculture. During his college years, he found a band that was looking for a vocalist. After he joined the band, he changed the name to the Ace in the Hole Band. After several trips to Nashville, George Strait was finally signed in 1981.