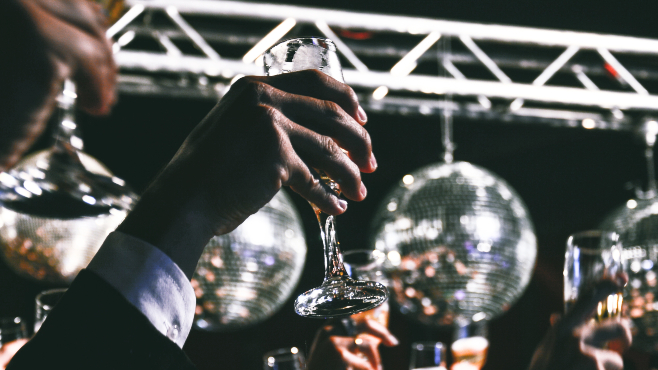 Every New Year's Eve, millions of people watch the big crystal ball drop, whether it's on TV or live at Times Square, it's a singular moment celebrated by many as a new beginning. I remember my parents would turn the tv on and we would count down at home together, watching the magical ball illuminate the night sky. I never really questioned why it was a "giant ball" or what the significance of that object was relating to the holiday. As you probably know, almost every tradition has some sort of story behind it, and the giant crystal ball drop is no different.
The tradition is inspired by something called a "time ball", a type of signaling device created in the 1800s. The time ball would drop at 1 PM every day, and captains of nearby ships would use that signal to precisely set their chronometers, which is a type of navigational instrument. There were believed to be around 150 of these time balls installed worldwide. They are still used in a few places like the United States Naval Observatory in Washington, DC, where it descends the flagpole at noon each day, but the most popular one still in use is the crystal ball in Times Square that drops every New Year's Eve.
In case you were wondering… YES, it's made of crystal. The ball is comprised of 2,688 Waterford Crystal triangles, which are illuminated by 32,256 Philips Luxeon LEDs, and it's VERY heavy. The ball weighs nearly six tons and is twelve feet in diameter.
Upon further research on this New Year's tradition, I stumbled across something interesting. Some cities around the United States have their own unique item drop. In Atlanta, they dropped a giant peach, which makes sense as Georgia is the "peach state". In North Carolina, a plexiglass box containing a live possum would be lowered (not dropped), although last year they caught some heat from PETA.
Unfortunately, it looks like Louisiana does not have any special New Year's Eve drop traditions unique to our area. Cajun culture is full of iconic symbols that could represent us… But what? Maybe a giant fiberglass crawfish like the one on that Guillory's Seafood sign on I-49? A giant light-up gator head? We could even get cheeky and lower a Gordon McKernan billboard… the possibilities are endless! What would you lower at 11:59 PM on New Year's Eve in Lafayette?